A Moon Between Two Houses
Summary
Plume is lively, chatty, cheerful. Taciturne, on the other hand, talks little, but she watches and listens. Her passion is music.
They live next door to each other, but that, it seems, is all they have in common. Only in the night, with its spooky sounds and looming shadows, do they learn how to find out about each other, smooth over their differences, and become friends.
A foundational play in Quebec theatre for young audiences, this poetic fable directly addresses the idea of being open to another and to the world, expressed through a symbolic universe that children instinctively understand.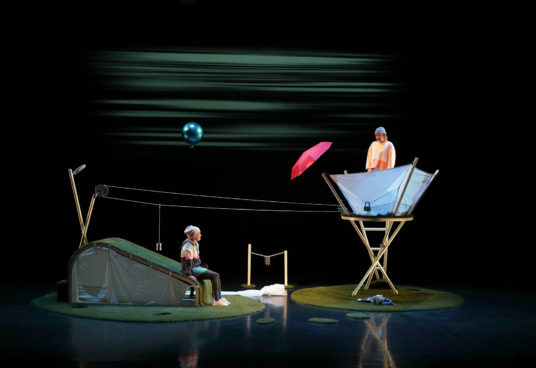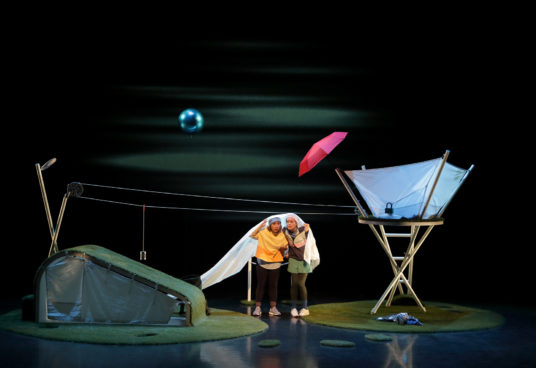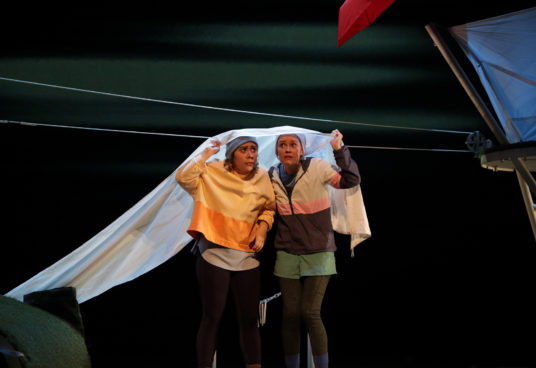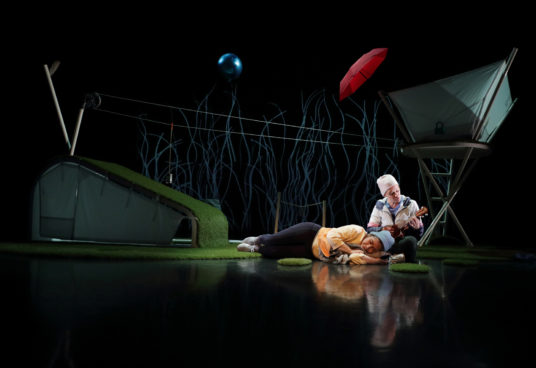 Children 3 to 6 years old
40 minutes
200 spectators
Creative team
Text
Suzanne Lebeau
Directed by
Marie-Eve Huot
Assistant director
Marie-Claude D'Orazio
Cast
Emilie Dionne and
Catherine Leblond or Citlali Germé
Set design
Patrice Charbonneau-Brunelle
Lighting design
Dominique Gagnon
Costumes
Cynthia Saint-Gelais
Sound environment
Diane Labrosse
Video design 
ATOMIC3 et Lionel Arnould 
Make up and hair
Sylvie Rolland Provost
Technical director
Nicolas Fortin
Production manager
Dominique Gagnon
Sound manager
Alexi Babin Rioux or Nicolas Fortin
Lighting manager
Nicolas Fortin or Marie-Claude D'Orazio or Julie Laroche
Le Carrousel thanks :
Isabelle Chrétien, Nicolas Dubois, Nicolas Germain-Marchand, Fanny McCrae
Photos in show : François-Xavier Gaudreault
Press clipping
"For its exploration of new staging avenues, the acuity of its intention, and its humanist message, the new version presented at Maison Théâtre, directed by Marie-Ève Huot, is a landmark event.
"… The gems of our dramaturgy continue to shine despite the passage of time. The glow that surrounds this version of Lune entre deux maisons will not fade anytime soon."
Olivier Dumas, montheatre.qc.ca
"Here, the world of the stage gives way to an invitation to dreams. Children recognize themselves there easily thanks to some simple but familiar elements. The actors perfectly embody childhood and clearly communicate the subtextual emotions. In fact, by my own observation, they were able to keep the attention of the little ones (three to five years old) in the audience for the entire duration of the show."
Les Méconnus, lesmeconnus.net
Production history
Premiered on September 28, 2018 by le Carrousel theatre company at la Maison Théâtre (Montreal).
Premiered in Spanish on March 4, 2022 at Teatralia Festival in Madrid.
2018-2019 Season : 39 performances – Two international festivals
In Québec :
Montréal : Maison Théâtre et Festival Petits Bonheurs.
In France :
Poitiers, Angoulême – Festival La Tête dans les nuages, Pouzauges, Wasquehal.
2019-2020 Season : 37 performances
In Québec :
Terrebonne, Saint-Jean-sur-Richelieu, Laval.
In Canada :
Ottawa
In France :
Mayenne, Ernée, Montaigu.
2021-2022 Season : 31 performances – Un festival international
In Québec :
Outremont, Montréal-Nord, Jonquière.
In France :
Morlaix, Créteil.
In Spain :
Madrid, Alcobendas, Séville.
PUBLICATIONS :
Leméac (Québec), 2012, Éditions Théâtrales (France), 2006; Éditions Québec/Amérique (Québec), 1980; Ediciones Colihue (Argentine), 2006, ASSITEJ-Espagne (Espagne), 1983.