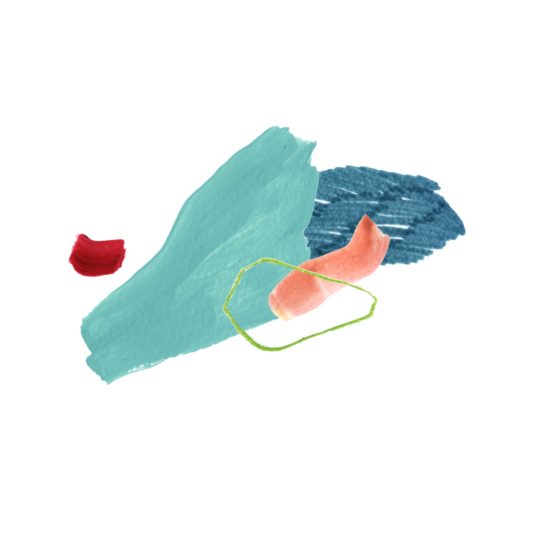 Summary
Timothée and Sammy, two young boys, meet secretly in an alley behind a theatre. Because they think that kisses and hugs are counted, they prepare to flee in search of a country where knees are like "public places" … While Sammy waits outside, Timothée enters the theatre for a last trip to the bathroom before they make their departure. Sarah, a little girl who can sing the highest note in the human vocal register, is trying to escape from that very theatre, where she has lost her voice.
An unexpected event interferes with their leaving, but not with their quest for tenderness. Timothée and Sarah find themselves alone, prisoners in the theatre. Their only way of keeping hope alive is to open up to each other. From this friendship comes their rescue.
Both inside the theatre and in the alley where Sammy waits, the issue is that of great love, a love that cannot survive without disobedience.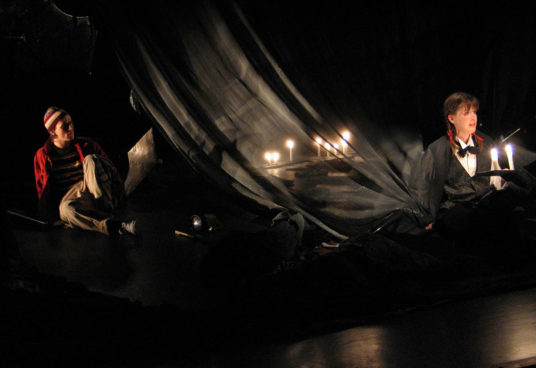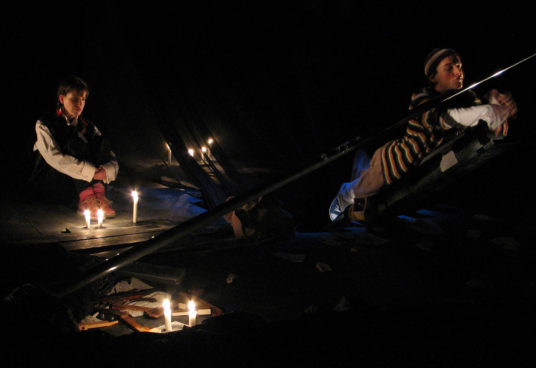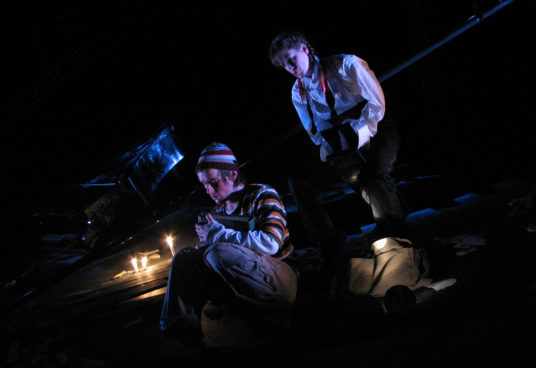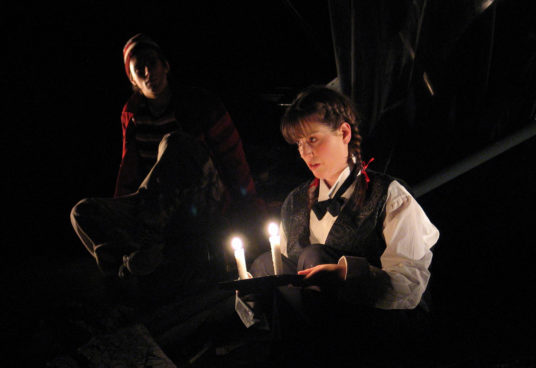 7 to 11 years old
65 minutes
250 - 300 spectators
Creative team
Text
Geneviève Billette
Directed by
Gervais Gaudreault
Assistant director
Robert Vézina
Playwright's advisors
Gervais Gaudreault, Suzanne Lebeau
Cast
Francis Ducharme, Danny Gagné, Audrey Talbot
Set design, costumes, and props
Katerine Brochu, Stéphane Longpré
Lighting design
Dominique Gagnon
Sound environment
Nicolas Rollin
Sound-space design
Mathieu Gatien
Hair and make-up
Pierre Lafontaine
Production manager
Dominique Gagnon
In residence at Théâtre de la Ville (Longueuil, Québec) and in co-production with Espace Malraux – Scène nationale de Chambéry et de la Savoie and Grand Théâtre de Lorient (France).
Photos in show : François-Xavier Gaudreault
Press clipping
"Presented by the Quebec company Le Carrousel, which has already given us Petit Pierre, this show for young audiences is full of the treasures of tenderness and humour.
'Why does my mouth always betray my heart?': Ringing absolutely true to the image of this line by Sammy, always held in check by his mother, the text by Geneviève Billette is remarkably served by the play of the young actors Francis Ducharme and Audrey Talbot, who are as spontaneous as children know how to be.
Gervais Gaudreault's direction is also wonderful. Sammy's face, appearing intermittently projected on a screen, makes this intimate story, which raises questions about how children are treated, even more poignant.
Wouldn't they have less difficulty growing up if adults knew better how to preserve a bit of their own childhood?"
L'Yonne républicaine, Auxerre
Production history
Premiered on January 11, 2005 by Le Carrousel at Espace Malraux – Scène nationale de Chambéry et de la Savoie (France)  in co-production with Espace Malraux – Scène nationale de Chambéry et de la Savoie and le Grand Théâtre de Lorient (France).
La pièce a été écrite en résidence d'écriture au Carrousel.
Le Pays des genoux a été lu à Montréal dans le cadre de la Semaine de la dramaturgie du CEAD en 2001 et s'est mérité la Prime à la création 2001 du Fonds Gratien Gélinas et le Prix Paul-Gilson 2004.
In 2005, Geneviève Billette received the Governor General's Award for Literature in the theatre category for Le Pays des genoux.
2004-2005 Season : 55 performances – Two international festivals
In France :
Chambéry; Décines; Villefranche-sur-Saône; Meylan; Épinay-sur-Seine; Albertville; Festival À pas contés, Dijon; Le Havre; Sens; Auxerre; Lorient; Festival Méli'Môme, Reims.
In Québec :
Maison Théâtre, Montréal.
2005-2006 Season : 46 performances – One international festival
In France :
Cergy-Pontoise; Vitry-le-François; Mulhouse; Annemasse.
In Québec :
Festival mondial des Arts pour la jeunesse/Arrondissement d'Outremont, Montréal; Joliette; L'Assomption; Beloeil.
2006-2007 Season : 30 performances
In Québec :
L'Assomption, Trois-Rivières, Joliette, Longueuil, Saint-Jean-sur-Richelieu, Sainte-Thérèse et à Montréal dans le cadre du Conseil des arts de Montréal en tournée : L'École et les Arts/Maisons de la culture Mercier et Rivière-des-Prairies, Maison de la culture Frontenac.
PUBLICATIONS :
Leméac / Actes Sud-Papiers.